At 5th March 2011 20:00 Star Time (server) was started Crossfire EPIC race. This admirable Event was organized and sponsored by Clan COP. Racers had to complete a very long Journey across many Systems in Crossfire Universe.
Participants: [UR]Pretorian(ASF), [BC]afGun, SMG_Savage, Freedom_Fighter, [UR] Dino, BG_Husker, [UR]GrandAndreask, Riebens, SA_Arcturus_TWC, rollo, Bu||et, woole and
(Fallen)Wild-Card-PLG.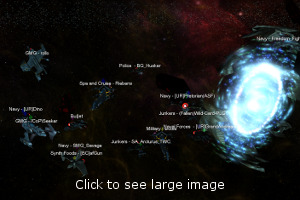 Race gathering Point was in Omega-3 System where arrived 13 Racers. After short pause at SAOC (Secret GMG Research Facility) all moved through GMG Hypergate to Inner Core Sector, where in Venn System was Race Start point. Racers had to show right after start their ability survive in very hostile space where Dooms patrols tried to stop them. They all arrived to Mittrak Station in Weth System (check point) and headed to Pchandar System and through Dom'Kavash Hypergate proceed to Altair space. On Racers there waited long journey through beautiful, big but unsettled 'old' Dom'Kavash Systems. After passing Gurm System guarded by light Nomads patrols, Racers arrived to populated space - Sovetskaya System. There was near Gurm gate second check point - Gorlowka Carrier. From that point Racers went to Vorkuta, Jakutsk System and back to Sirius space. There waited short but truly deadly trip through Unknown Systems controlled by heavy Nomads patrols to Planet Lost Paradise (check point). After passing this check point remained 'only' go to New York System in the center of Sirius Sector. Race ended when Racer docked at Planet Manhattan.
Race Results:
1st place [UR]Dino
2st place SA_Arcturus_TWC
3st place Freedom_Fighter
Race finished 12 from 13 Racers. SMG Savage died by Nomads hand somewhere in unknown and give up.
And at end few words from Race Organizer, COP Clan leader Bond:
"I would like to say Thank you again, to SA Arrow who created CF race medals and help me with some ideas, UR GrandAndreask who help me out with some ideas, SA Forlon camera man who put this event in CF history, TOD Firedragon who was brave enough to wait at Mitrrark.

At last but not least, a big thank you to all the people who support idea and/or participated in this race and were able to understand what was the real goal of this event."
Video from Race (1.part 'Beta' version)
--Silver Arrows News Channel
Last edited by Martind Forlon on Tue 16 Aug 2011 - 15:38; edited 2 times in total
congratz to our former mate Dino and to TWC !!!
_________________
Founder of the Silver Arrows
,
Founder and Deputy Commanding Officer of the Silver Arrows Command (FL:CF Branch)
,
Director of the Department of Foreign Affairs
.
Join the Silver Arrows !
Official
Freelancer: Crossfire
on Facebook !

sa_admin

Fleet Admiral





Number of posts

: 3483


Age

: 31


Character RP Name

: Sam Thomas


Callsign

: SA_ARROW


Registration date :

2007-08-05

Character sheet
Name: Sam Thomas
Callsign: SA_ARROW
Assigned Unit: Silver Arrows Command


Nice.
_________________








You should be running

Seqan

Captain





Number of posts

: 2346


Age

: 24


Character RP Name

: Connor O'Neill


Callsign

: Seqan


Registration date :

2010-07-19

Character sheet
Name: Connor O'Neill
Callsign: Seqan
Assigned Unit: Silver Arrows Command




Similar topics
---
Permissions in this forum:
You
cannot
reply to topics in this forum