~Name~
Restovski Zhirov

~Requested Callsign~
Briggs

~Place/Date of Birth~
Planet Medina, 2986 A.D.

~Flight Experience/Previous Expertise~
Former Coalition captain, long-term transport escort, temporary leader of Lane Hacker pirate faction (DIscovery mod)

(Out of RP)~How long have you played Freelancer/Crossfire~
Played the campaign several times back around 2006-2007, started playing Discovery mod around 2010. Played a good deal from then until now, with maybe 1 year's worth of a hiatus inbetween, just started Crossfire in the last few weeks.

~Why do you want to join the SA~
I love PvE, I really like to roleplay in Freelancer, and SEQAN HAS A GUN TO MY HEAD OH GOD PLEASE HEL-

~What's your timezone~
GMT-5

~Your Skype ID~
restosthethird

~Last but not least, are there any things you want to tell us before we review your application?~
My main Freelancer experience is in the form of capital ships and bombers. You've been warned.

Briggs

Recruit





Number of posts

: 1


Age

: 21


Character RP Name

: Restovski Zhirov


Callsign

: Briggs


Registration date :

2015-04-15

Character sheet
Name: Restovski Zhirov
Callsign: Briggs
Assigned Unit: Training Academy


Yeah...Connor always had a way with words...and firearms. Usually if he drags someone in at gunpoint, they're worth looking into. The decision isn't solely up to me, of course...but if Connor dragged you in here, you've got my backing as well.

_________________

Zeroth

Captain





Number of posts

: 423


Age

: 40


Character RP Name

: Owen Mason


Callsign

: SA_ZEROTH


Registration date :

2010-07-03

Character sheet
Name: Owen Mason
Callsign: SA_ZEROTH
Assigned Unit: Silver Arrows Command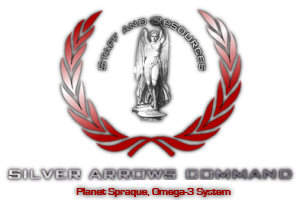 Dear Mr Zhirov,

The SAHC has received your application and it has been reviewed. Your knowledge of the universe seems vast, yet you are still to explore the new areas of Crossfire. The name you mentioned in your application is an assurance to us that you are going to work hard to achieve the requirements and thus be accepted with the Silver Arrows. So with that concluded, you are hereby accepted in the recruitment process. You will be added to the Skype Comms and you will start your recruitment today. You WILL NOT use the SA tag yet until you are cleared to do so.

Welcome to the Recruitment process.

Rear-Admiral Hasashi,
SA Clan Leader
Director of Staff & Resources


_________________

Trinity

Rear Admiral





Number of posts

: 774


Age

: 23


Character RP Name

: Hanzo Hasashi


Callsign

: SCORPION


Registration date :

2012-01-08

Character sheet
Name: Hanzo Hasashi
Callsign: SCORPION
Assigned Unit: Silver Arrows Command




Similar topics
---
Permissions in this forum:
You
cannot
reply to topics in this forum