------------------------------
Character Name : Stéphanie V. Proulx  
Requested Callsign : Kama
Location : Nothern Europe, Finland. (GMT+2 , Daylight savings time applies)
Desired activity : Explorer, Defender, Patroller
Freelancer background : Not much to say about my background. Used to play vanilla FL back as a young lad and such. My first ever large mod that I played (Albeit, in single player) Was Discovery Freelancer 4.84. Until I joined it's MP community at around 4.85-4.86. Crossfire I had also tried out in single player afterwards quite a bit.
------------------------------
EXTRA: Skype inside my profile info if anyone needs it (If it was visible to everyone). But Trinity here has it already to share if needed.

Syf

Ensign





Number of posts

: 2


Age

: 21


Character RP Name

: Stéphanie Valèriane Proulx


Callsign

: Kama


Registration date :

2015-04-07

Character sheet
Name: Stéphanie Valèriane Proulx
Callsign: Kama
Assigned Unit: Training Academy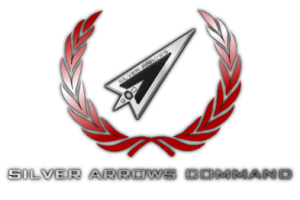 Dear Ms. Proulx:
Thank you for submitting an application to our offices. It has been reviewed thoroughly. Based on your previous history and experience across the Freelancer Multiverse, and the current state of the SAC offices, we feel we cannot accept you as a recruit at this present time.
That being said, Rear Admiral Hasashi has provided a glowing recommendation and as such you are directly inducted into the Silver Arrows with the rank of Crewman.
This is both an advantage and a hindrance for you. As Admiral Hasashi is the only one within the Silver Arrows who knows you, and the normal wait time is being waived here, you will be expected to spend a significant amount of time with both senior and non-senior officers acquainting yourself with the Silver Arrows and the various pilots in our ranks and demonstrating your flight capabilities.
Furthermore, at this time you are not assigned to a trainer or a flight wing.
You're in the spotlight here, Crewman. You're the first new member we will have accepted since Admiral Hasashi began the Clan's reconstruction. All eyes will be on you.
Best of luck, Crewman Proulx.
Signed,
Captain Connor O'Neill
_________________








You should be running

Seqan

Captain





Number of posts

: 2346


Age

: 24


Character RP Name

: Connor O'Neill


Callsign

: Seqan


Registration date :

2010-07-19

Character sheet
Name: Connor O'Neill
Callsign: Seqan
Assigned Unit: Silver Arrows Command




Similar topics
---
Permissions in this forum:
You
cannot
reply to topics in this forum