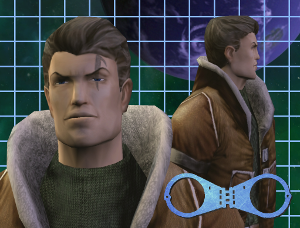 SAC Archives 3014/02/04: New York system, SA Liberty HQ, City Los Angeles, Planet Manhattan. Small airport on roof HQ was activated, one from Silver Arrows patrolling fighters was ready for take off. Mission was to investigate two possible smuggling ships bearing IOC mark. Last known position were systems Regalis and Kyushu. Short database check had revealed that ships position can correspond to two possible BMGs routes. Fighter which has left Manhattan was piloted by Fleet-Admiral Forlon and headed to Fort Bush. Targets coordinates were updated, both ships were spotted in Hokkaido system and after this one from them had entered Chugoku system. Was time for coordinated police work. Near X system was in space Commander Kirkland and this offered possibility for successful police operation.
Admiral Forlon commented: "From possible smugglers ships courses was little too obvious that ship marked as "Target 01", previously spotted in Regalis, is heading to Omega-7 using classic BMG route. This would be under normal circumstances clear "win" situation for this smuggler because our ships had much longer routes to destination area. On other side we knew that second possible smuggling route (leading to Cortez) had special prices that day and my ship was for them in wrong position. Was clear that they needs to do something, what moves my ship away. One possibility was move cargo from Target 01 to Target 02 and offer us false target which we can follow. We could ignore this, but on other side we wanted catch smuggler with illegal cargo and this needed to offer them real chance for "win". Once I entered Hamburg Target 02 entered Kyushu and this was first sign confirming our estimate. I could change course at that moment and block Cortez, but if they saw that I turned, they could simply canceled operation. We decided to try something else. Commander Kirkland entered Nephele using route to New London. I continued in course to Omega-7 as fast as possible and ignored Target 01. Was estimated, that I can reach Cortez in time if Commander can block jump gate from Manchester to Cortez. Target 01 in meantime entered Frankfurt and this confirmed to us, that he play only a decoy role. Hunt was ongoing, chance for win was open for both parties ..."

Commander Kirkland was successful with blocking Cortez gate and smuggler was forced leave to Magellan. He had still good chance to fast dock on planet in Cortez if he can jump to Cortez from Magellan without being a catch. Admiral Forlon in the meantime moved through Omega-3 to Cambridge, jumped to Leeds and entered Manchester system through jump hole. Commander jumped to Cortez and headed to Magellan jump hole where he did positive scan for Target 02 cargo, but had not enough time to stop him. In the end two Silver Arrows fighters reached Planet Curacao orbit in the same time maybe only 20 seconds later as Target 02, which undocked with legal commodities on-board and requested escort against pirates. This request was ignored ...

.
Debriefing: "It was good hunt despite the fact that we were a losing side. Experience gathered in this operation will be used in the future and smugglers will have their life even more difficult"
--Silver Arrows News Channel
!! I must of just missed this =) I will try to join on the next one.
_________________

Josh Sanders

Lieutenant





Number of posts

: 198


Age

: 35


Character RP Name

: Josh Sanders


Callsign

: ROOSTER


Registration date :

2014-01-10

Character sheet
Name: Josh Sanders
Callsign: ROOSTER
Assigned Unit: Retired


It was definitely a testing mission. If it were not for my Commanding officer, I would not had gotten far with this hunt. It was indeed a very close shave but the plan was well thought out indeed. It is only a shame that this much effort caused this mission to fail.
_________________
Bless your Face.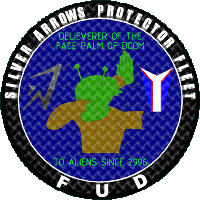 Number of facepalms collected: 10=
1=

Fuffud

Captain





Number of posts

: 814


Age

: 22


Character RP Name

: Peter Kirkland


Callsign

: SA_FUD


Registration date :

2010-06-01

Character sheet
Name: Peter Kirkland
Callsign: SA_FUD
Assigned Unit: Alpha_Wing


Well, it was a deep, deep undercover mission for the LSF

. Something to do with their "Hudson Project", but we don't know what it is about.
So we had to deliver at all costs! For your information, we were testing a new tactic, regarding how to avoid mission failures.
( We had a little panic in the beginning

and 1 SA pilot in X system not moving

)
Allways fun to play with SA - a worthy hunt opponent!

SIlverFox




Number of posts

: 2


Age

: 51


Character RP Name

: SilverFox


Callsign

: SilverFox


Registration date :

2012-06-26





Similar topics
---
Permissions in this forum:
You
cannot
reply to topics in this forum