Good day ladies and gentlemen. SAC have for today prepared new reward for Cmdr. Peter Kirkland (call-sign FUD) for his latest distribution to the clan knowledge. His work on BSs combat guide brought to him 5 additional contribution points (in total 10) and therefore can be rewarded with Silver level of the Green Cross of the Silver Arrows.
Congratulations Fud! You did rly nice work on this!  

I am really Flattered Sir. Thanks a bunch. Glad I am actually starting to be a useful asset to the clans Knowledge.

I will try my best not to lose any momentum while making the rest of the Battleship Tutorial Series.
_________________
Bless your Face.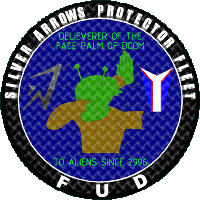 Number of facepalms collected: 10=
1=

Fuffud

Captain





Number of posts

: 814


Age

: 22


Character RP Name

: Peter Kirkland


Callsign

: SA_FUD


Registration date :

2010-06-01

Character sheet
Name: Peter Kirkland
Callsign: SA_FUD
Assigned Unit: Alpha_Wing


_________________

Josh Sanders

Lieutenant





Number of posts

: 198


Age

: 35


Character RP Name

: Josh Sanders


Callsign

: ROOSTER


Registration date :

2014-01-10

Character sheet
Name: Josh Sanders
Callsign: ROOSTER
Assigned Unit: Retired


Battleship combat? Pfft. Your battleship is nothing against my torpedoes and DKAs. 

Congratz on the medal though.

_________________








You should be running

Seqan

Captain





Number of posts

: 2346


Age

: 24


Character RP Name

: Connor O'Neill


Callsign

: Seqan


Registration date :

2010-07-19

Character sheet
Name: Connor O'Neill
Callsign: Seqan
Assigned Unit: Silver Arrows Command



Trinity

Rear Admiral





Number of posts

: 774


Age

: 23


Character RP Name

: Hanzo Hasashi


Callsign

: SCORPION


Registration date :

2012-01-08

Character sheet
Name: Hanzo Hasashi
Callsign: SCORPION
Assigned Unit: Silver Arrows Command




Similar topics
---
Permissions in this forum:
You
cannot
reply to topics in this forum