Character Name : Josh Sanders
Requested Callsign : Rooster
Location :United States (Texas) CST
Desired activity :Trader/Explorer
Freelancer background :I have completed Vanilla FL main story and a little of the Crossfire 1.9 story. I have 0 PvP experience and all my time on the Crossfire Server has been PvE. I have played hundreds of hours on the X-series. Space sims are the creme of the crop in my opinion and I will be playing FL for a long time to come with the only light being possibilites towards Star Citizen.

Josh Sanders

Lieutenant





Number of posts

: 198


Age

: 35


Character RP Name

: Josh Sanders


Callsign

: ROOSTER


Registration date :

2014-01-10

Character sheet
Name: Josh Sanders
Callsign: ROOSTER
Assigned Unit: Retired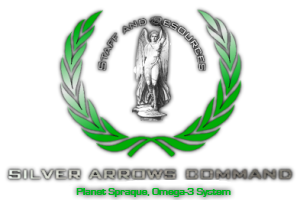 Dear Mr Josh Sanders,
The SAC is glad to receive your application. It looks that your experience with Crossfire space is somewhat limited, but because I had chance to talk with you, I think you are able and willing to learn. Next to that you showed really serious interest to join our clan without looking back on personal difficulties and loses which are now needed for any freelancer wiling to join a clan. I wish you a lot fun while you will be in Crossfire space and I hope you will join us soon as a full member.
We hereby accept you as a Recruit of the Silver Arrows and you will now need during your Recruitment to satisfy our Staff Officers (
SO
) to be able to become a regular member of the Silver Arrows. Until then, you
shall not
use the clan tag (SA_).
During recruitment you will discover how the clan works and see if it suits your expectations well. On our side, the Staff Officers will evaluate your skills and knowledge about Crossfire space. Soon you will have created access to lowest level of Silver Arrows Academy where you can ask your questions in private and where you will also receive your first tasks and additional instructions.
Good luck in your Recruitment Sanders!

Welcome! It's always nice to see new possible recruits. I hope to see you in space soon and I wish you best of luck with joining the clan
Last edited by Duck_Dodgers on Sun 19 Jan 2014 - 12:00; edited 1 time in total
_________________

Trinity

Rear Admiral





Number of posts

: 774


Age

: 23


Character RP Name

: Hanzo Hasashi


Callsign

: SCORPION


Registration date :

2012-01-08

Character sheet
Name: Hanzo Hasashi
Callsign: SCORPION
Assigned Unit: Silver Arrows Command


Recruit Josh Sanders satisfied me with his povs and willingness to learn new things. His weakness is lack of skills, but he will have many opportunites for build them up, and we will be helping him with that as much as possible. Because there is not need to spent more time in recruitment I decided to accept him as full member. Congratulations Crewman Josh Sanders! Your forum rights were updated and you can now see clan internal sections. Make yourself comfortable here and look around, Silver Arrows are for you now your new home in Crossfire universe. Permission for start tagged chars granted
You will be assigned to Omicron wing (Training, Operations against alien forces, Exploration, Trade info, Economy and Recon duties).
Welcome to the clan I say
Lets hope you stick around long enough so you get a good position in the clan

Captain Hanzo Hasashi (codename SCORPION), Alpha Wing Squad Leader
_________________

Trinity

Rear Admiral





Number of posts

: 774


Age

: 23


Character RP Name

: Hanzo Hasashi


Callsign

: SCORPION


Registration date :

2012-01-08

Character sheet
Name: Hanzo Hasashi
Callsign: SCORPION
Assigned Unit: Silver Arrows Command


_________________

Josh Sanders

Lieutenant





Number of posts

: 198


Age

: 35


Character RP Name

: Josh Sanders


Callsign

: ROOSTER


Registration date :

2014-01-10

Character sheet
Name: Josh Sanders
Callsign: ROOSTER
Assigned Unit: Retired




Similar topics
---
Permissions in this forum:
You
cannot
reply to topics in this forum