Rear Admiral Ryleous Arkane returned!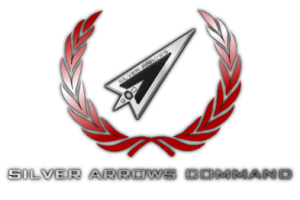 Silver Arrows Command is still shocked from latest breaking news about long time lost Admiral Arkane return. Story about his return was complete big surprise for all and we are now impatiently waiting for his personal return to SAOC in Omega-3.
"Beeeeeeeep" com screen switched on and showed Watch Officer face "Sir, can you please come to operation room? We just got coded message which need your attention." "Roger, will be there shortly" replied Admiral Forlon ... "why he just not send me this message via com, will lost only time before prepare latest news." murmured during short walk to operation room. Little later he had before him short coded message which looks familiar, but in very old code. Ofc it was request to dock, such short message he used many, many times but ... who?! ... "Disable ion and let this ship dock in #5!" gave order, "I will be waiting there!
Dock #5 was prepared for small ship maneuvering to her dock bay ... old Redemption in very bad shape. Finally ship engines stopped and cockpit opened. High tall man in old suit jumped on hangar floor. Man who no one expected to see alive again, but who was simply here and with wide smile "Miracles sometimes happen ..."
--Silver Arrows News Channel

---
Permissions in this forum:
You
cannot
reply to topics in this forum