Crossfire 1.9 server rules UPDATED!
Crossfire server rules got important UPDATE (!!! read here !!!) which reflect latest server/portal changes and situation on server.
Included are: usage more IDs with one player in same time, Galaxy rangers role, gods monopoly removed, ways for rules break reports, and others.
Next are done significant changes for mercenary roleplay:
● private bounties are not permitted!
● combat (PvP) contract must be arranged through adverts on portal RP boards! (this not work technically)
● Mercenaries can attack without warning only when is fighting for bounty.
This rules change will become effective on Monday 19th Mar 2012.
--Silver Arrows News Channel
Last edited by Martind Forlon on Tue 17 Jul 2012 - 2:41; edited 1 time in total
Note: have you checked server page latelly? ... new face looks great!
When I read the server rules once again... It said that O3 was a CSF system :/ Something happened?
_________________
Bless your Face.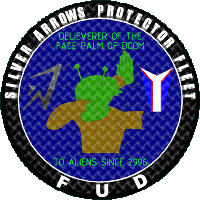 Number of facepalms collected: 10=
1=

Fuffud

Captain





Number of posts

: 814


Age

: 22


Character RP Name

: Peter Kirkland


Callsign

: SA_FUD


Registration date :

2010-06-01

Character sheet
Name: Peter Kirkland
Callsign: SA_FUD
Assigned Unit: Alpha_Wing


... looks little obsolete info remained there

... good find Fud!
_________________
-----------------------------------------------------------------------------------------
All characters has the RIEBENS callsign.
SA_Fighter_ ,SA_Explorer_ ,SA_Trader_ ,SA_Heidelberg_ ,SA_Tafelberg_
-----------------------------------------------------------------------------------------
Windows 7 X64, AMD Phenom II X4 965 Black 3.4GHz, 8GB 1600 RAM, NVIDEA GeForce GXT 460

Riebens

Captain





Number of posts

: 872


Age

: 55


Character RP Name

: Richard Ben Riddick


Callsign

: SA_RIEBENS


Registration date :

2011-01-25

Character sheet
Name: Richard Ben Riddick
Callsign: RIEBENS
Assigned Unit: -none-




Similar topics
---
Permissions in this forum:
You
cannot
reply to topics in this forum