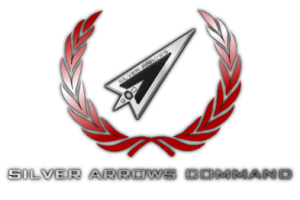 Introduction: "Greetings to ALL. For those who regularly watch situation in Silver Arrows had to be obvious, that at the end of last year not all was quite right. In that time we lost due various reasons more experienced active pilots and those included also Silver Arrows Command (SAC).
Rear Admiral Elodie Vox (Director of Justice and Investigations Department) was retiring under unexplained circumstances when we were not able found slightest clues what happened. Captain Connor O'Neill (Director for Operations Department) had ship crash accident and barely survived (fictional) and is now on Senior Advisor post (check our Members Guide for details). Add to all this few others ordinary pilots off duty due special duties and previously good working organization had to begin to address serious problem. Updated: Captain Connor O'Neill recovered and is back in active duty.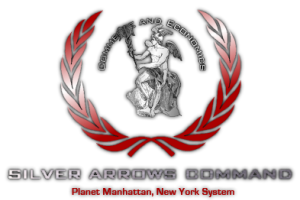 Fleet Admiral Martind Forlon :
"Fortunately we were able to manage our loses and now is for me pleasure to announce first new SAC member which became lady Cmdr. Raiden Caprica.
Commander Raiden is now leading officer in Economic Department. Silver Arrows decided significant changed priorities and good economy will from now on be most important task for every SA member.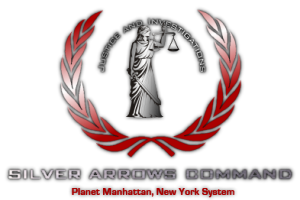 Second new SAC member:
"Is pleasure to announce that Captain Richard Ben Riddick accepted SAC offer on position Director for Department of Justice and Investigations.
With upcoming changes in Silver Arrows internal rules and variable conditions in Crossfire universe will be placed on this Department increased demands. Captain have strong moral code, steel mind and he demonstrated in the past more times that he will be right person for this role. Updated: Due unforeseen RL circumstances and personal reasons decided Captain Richard Ben Riddick left SA ranks. He is as previous SAC member on position Senior Advisor.
New SA pilots: Last info is about two new pilots who decided join SA ranks. First one is Ensign Hanzo Hasashi. This young pilot passed only recently his Graduation, but so far he showed very good skills and also ability to learn. His instructors say that although he is able make them often crazy, they are proud on his progress. He is one from very few pilots who were able at the beginning of their career obtained one from SA honorific medals which can be acquired only for extraordinary effort. Second new pilot is Recruit Lynx Ironforge. He just now started his Recruitment Trial Period and we wish him success in training and good luck in his ship cockpit.
--Silver Arrows News Channel
Last edited by Martind Forlon on Fri 3 Feb 2012 - 13:32; edited 1 time in total
_________________
Founder of the Silver Arrows
,
Founder and Deputy Commanding Officer of the Silver Arrows Command (FL:CF Branch)
,
Director of the Department of Foreign Affairs
.
Join the Silver Arrows !
Official
Freelancer: Crossfire
on Facebook !

sa_admin

Fleet Admiral





Number of posts

: 3483


Age

: 31


Character RP Name

: Sam Thomas


Callsign

: SA_ARROW


Registration date :

2007-08-05

Character sheet
Name: Sam Thomas
Callsign: SA_ARROW
Assigned Unit: Silver Arrows Command




Similar topics
---
Permissions in this forum:
You
cannot
reply to topics in this forum