Yesterday evening was launched one nice event which bring very nice experience
...
Background:
...Again we got a massage from the Dom'kavash, since they are under constant attack of the other aliens races, they are getting without main resources. They sent us a massage about an urgent needing of resources as water, oxygen, food rations. We are organizing a convoy of 1-2 Soulforge Trains.We all know what is expecting us through the way to Dom'kavash territory, we please all space pilots who can to escort us there!
We had 12 participants included two Trains.
Results:
Both trains got destroyed, 1 in Venn, the 2nd near Weth:
BG_Husker_Train
SA_Trader02 (Forlon)
The following players reached Weth:
toast17.5
z7D
EvilBrain
BG_p0x
-=TJ=-
The others died by the way:
|DSC|-The_Cro_Legend
sucubios
/CoP\Katatonisk[P]
F
SMG_Hexplore

''We had a nice escort, but we failed anyway.'' Said one of the Train captains. The Dom'Kavash got dissappointed and now they have to find another way to get this goods. This Alien races inflicted us a big loss, for reputation with the Dom'Kavash too, but we will strike back...one day! And that will be soon! Meanwhile the Sirius ''Big Heads'' started to organize an Assault fleet to attack the Alien races.

More experience gained, mission as is this is difficult but definitely doable with better tactics. More comments after this event can be read from this post.
_________________
Founder of the Silver Arrows
,
Founder and Deputy Commanding Officer of the Silver Arrows Command (FL:CF Branch)
,
Director of the Department of Foreign Affairs
.
Join the Silver Arrows !
Official
Freelancer: Crossfire
on Facebook !

sa_admin

Fleet Admiral





Number of posts

: 3483


Age

: 31


Character RP Name

: Sam Thomas


Callsign

: SA_ARROW


Registration date :

2007-08-05

Character sheet
Name: Sam Thomas
Callsign: SA_ARROW
Assigned Unit: Silver Arrows Command


Congrats
I suppose. I would advise the Scouser next time. It has high Armor, 1750 cargo and is a great laugh in asteroid fields.
Speaking of Scousers. When can I give my energy crystals to a store or something so I can get more?
_________________
Bless your Face.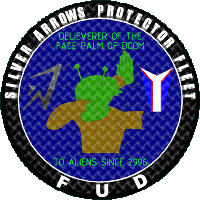 Number of facepalms collected: 10=
1=

Fuffud

Captain





Number of posts

: 814


Age

: 22


Character RP Name

: Peter Kirkland


Callsign

: SA_FUD


Registration date :

2010-06-01

Character sheet
Name: Peter Kirkland
Callsign: SA_FUD
Assigned Unit: Alpha_Wing



---
Permissions in this forum:
You
cannot
reply to topics in this forum