One Helluva Night for the Doms
Recently, the United Dom forces destroyed a massive human fleet in the Inner Core. This fleet was headed by several Silver Arrows' pilots, including Captain Connor O'Neill. "Those bastards came out of nowhere!" O'Neill commented. "They destroyed my ship and the rest of the fleet in nothing flat!"
Following this encounter, Captain O'Neill appealed to the Autonomous Department of Management and Interstellar Navigation, or the ADMINs, for help. Up until this point, the ADMINs, who regulate the power of individuals and organizations so that they don't get too powerful in this galaxy, had done nothing against the Doms even though the ADMINs have the power to completely remove the Doms from this galaxy. After the annihilation of the human fleet, which the combined crews of which came up to well over twenty five thousand souls, the ADMINs decided it was time to step in.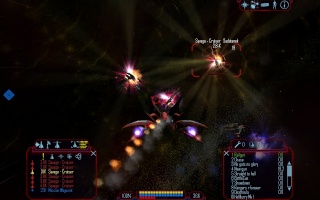 The ADMINs decided to send in a single expermental living weapon, codenamed Ragnarok, to deal with the Doms throwing off the balance of power in the galaxy. Scans of the ship collected at the SAOC seemed to reveal it was organic in nature, so it was unknown if there was a pilot inside at all.
Captain O'Neill, his pride still hurt by the havoc the Doms had wreaked on his fleet, followed the Ragnarok into the Inner Core. The Ragnarok, fortunately for O'Neill, ignored him completely. "He just cruised through the Inner Core systems faster than any other ship we have! I only caught up with it in time to see it utterly pwning fleets before it zoomed off again! When it looked like it was about to be destroyed, it just... healed!" O'Neill commented.
By the time the Ragnarok made it into Weth, never to be seen again by Captain O'Neill, O'Neill had witnessed the total destruction of one dozen Dom fleets, mostly Savages, and at least twenty squadrons of fighters. O'Neill said, "Boy, I sure am glad they were on our side! This time..."
--Sirius News Service
_________________








You should be running

Seqan

Captain





Number of posts

: 2346


Age

: 24


Character RP Name

: Connor O'Neill


Callsign

: Seqan


Registration date :

2010-07-19

Character sheet
Name: Connor O'Neill
Callsign: Seqan
Assigned Unit: Silver Arrows Command


Bwuahahahaha! I remember my adventure into the Inner Core while I was still a Galaxy Ranger in my noble Ragnarok. I still have sentimental pictures of the "warpath", one particularly of a series of pictures me unleashing two shots of the rail gun on a Warrior station and blowing it to pieces.
Dralle remembers well that day I was with him then in my Ragnarok and the onslaught I brought to the Doms. Fun times indeed...
_________________
Greetings Freelancer.  You have been recruited by the Silver Arrows to defend humanity against the hostile
Xeno-lifeforms and their armadas. To explore... To defend... To help all humanity fight for it's preservation!

Ryleous Arkane (SA_ORION)

Rear Admiral





Number of posts

: 1867


Age

: 43


Character RP Name

: Ryleous Arkane


Callsign

: ORION


Registration date :

2010-01-29

Character sheet
Name: Ryleous Arkane
Callsign: SA_ORION
Assigned Unit: Retired


Nice article Seq
.
(I see little badly formatted left picture .. will look at this tomorrow)
Yeah, it happened too with the face, so I resized that, but I couldn't figure out why that happened. ARROW!!!

I thought it looked okay...
_________________








You should be running

Seqan

Captain





Number of posts

: 2346


Age

: 24


Character RP Name

: Connor O'Neill


Callsign

: Seqan


Registration date :

2010-07-19

Character sheet
Name: Connor O'Neill
Callsign: Seqan
Assigned Unit: Silver Arrows Command




Similar topics
---
Permissions in this forum:
You
cannot
reply to topics in this forum