SA successful evening in space !!!
Silver Arrows attack squad succeed in a Ancient Hunt Event held in Dervon system under EM Cro command. On this event arrived in total 9 pilots and were created 3 teams. Each team had 15 minutes for hunt in Dervon and collect as many Ancient Energy Cannons as possible. SA team (Forlon, Riebens, Raiden) was able collected 6 Ancient Energy Cannon even with very poor drop rate (Riebens-5, Forlon-1,Raiden-0). Other teams (check here) was able collect only 3 guns. It was very nice evening start for us (also 50M $ for winners

). Vice-Admiral Martind Forlon commented : "It was on beginning almost depression. We searched for Drones maybe 3-4 minutes near planets before first come. Around 10 minute we had only 2 guns and this despite fact we operated divided and destroyed each more Drones. But at end Drones come in short waves and our prey increased.".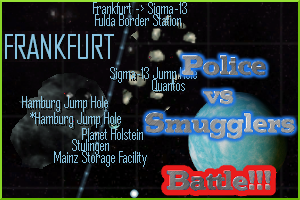 But this was not all (truth to say it was only beginning

). On a "Ancient Hunt" end we received Police offer (contract) about help them against smugglers. After little disputing about contract price moved SA attack squad to Frankfurt. When we arrived, we openly announce our contract to Frankfurt owners (clan BLK_OPS). After little conversation we received permission to come (THX for this guys!, BLK_OPS have my respect bcs this decision!). Soon as we reached Planet Holstein, we found there real madness, many pilots fighting on both sides. Guns, missiles and torps cruising space and on Planet Orbit thundered BLK_OPS flagship big guns. Battle raged almost two hours, on smuggler side was BLK_OPS, PX and LP, on police side BG, UR, COP and SA. At end police forces withdraw from fight, this time was smugglers defense stronger. SA forces received payment and returned to theirs home, in pilots minds still rezoned fierce combat.
And now few word from Vice-Admiral Martind Forlon (OORP) : "This was IT! Fight without hate for fun and glory. Many "gf" and "gfs" sounded. Thanks for this a Fun comes from more sides and I personally want also sent THX to a police Officer who hired us. I hope we will have more fun like this one in a Future."
--Silver Arrows News Channel
Nice write up and good hunting guys, sounds like you guys had fun for once and no drama!
_________________
Greetings Freelancer.  You have been recruited by the Silver Arrows to defend humanity against the hostile
Xeno-lifeforms and their armadas. To explore... To defend... To help all humanity fight for it's preservation!

Ryleous Arkane (SA_ORION)

Rear Admiral





Number of posts

: 1867


Age

: 43


Character RP Name

: Ryleous Arkane


Callsign

: ORION


Registration date :

2010-01-29

Character sheet
Name: Ryleous Arkane
Callsign: SA_ORION
Assigned Unit: Retired


I might send up a mission when I return after updates, will send full details of deployment. Date will be set around September 1st. Thinking of which clan that does accomplish in first a live payment for their system.

Loyal

Commander





Number of posts

: 210


Age

: 31


Character RP Name

: OE-254 Loyal AI


Callsign

: SA_LOYAL


Registration date :

2010-05-19

Character sheet
Name: OE-254 MKIX
Callsign: SA_LOYAL
Assigned Unit: -none-




Similar topics
---
Permissions in this forum:
You
cannot
reply to topics in this forum