Inner Core Mission #2556: 2011-04-20
20th April 2011, 21:00 Server Time: Communication between SA SAOC store and Rear-Admiral Martind Forlon:
"Storekeeper, I need two advanced missile launchers and few adv. guns, ETA cca 60 min with my new ship."
Storekeeper:
"Sure Admiral, we have plenty missile launchers, advanced equipment and also advanced alien-tech guns."
. Forlon:
"good, please prepare two War-sy Propulsors and Coalition Gattlings."
Storekeeper:
"roger Admiral, checking store computer now."
After few minutes conversation continued. Storekeeper (with tension in her voice):
"Admiral it looks we have a problem … ."
Forlon (coldly):
"What ?!?"
Storekeeper (expecting a execution on the spot):
"It looks we do not have War-sy and only one Gattling."
Forlon:
"Are you kidding? … "
(frosty tone)
"So what you have in store?"
Storekeeper (strangled voice):
"Best we can give you are Kelyrd-ray Projectors, but we have only three of them."
Forlon (in mind):
"Nice, it looks as I will need go to Inner Core with a asynchronous aiming computer .. I will kill him and better very slowly."
In voice:
"Prepare me what you have!, Forlon out."
After few minutes adrenaline in blood decreased and admiral opened communication device, search for available pilots was started. Result - just now are available two our pilots - Ensign Rasann Vic Isarn and Lieutenant Richard B Riddick. FTL communication device was switched on, security communications protocols running:
"Gentlemans, is good that you are here, I need your help in Inner Core."
Sixty minut later - GMG gate prepared, three SA ships entered one-way gate and few seconds later appeared in Inner Core System.
Short briefing begin: Mission goals: acquire at least 6 war-sy guns and move all ships with loot safely to Mittrak Battle Station in Weth. Main target system - Jormdar, main target: Savage fighters.
From first minutes went mission well. First Savages patrol was destroyed in Venn system with 2 War-sy as loot. Wing little later entered e3 sector in Jormdar and stopped in asteroid field. Dooms patrols arrived soon and tried their luck.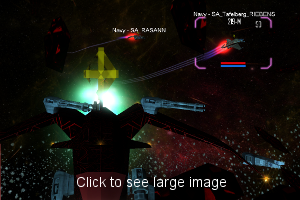 Wave after wave was destroyed, no less than 60 enemy fighters were killed. In storage - 7 War-sy Propulsors and one Nyses'o Blaster. Admiral give command:
"Time return to safe base!"
Wing successfully flied trough hostile space and evade all enemies. Weth gate in sight, distance 3km. As first moved to Weth Lieutenant Riddick with his heavy armored Deimos ...
"All clear, you can enter Weth safe"
reported. Ensign Rasann Vic Isarn jump second, on comm channel started congratulations. But in Ryssk system was still Admiral Forlon's ship which started jump sequence when ... suddenly emergency sounds started, HUD filled with red arrows, incoming enemy fire! Jump aborted, crazy evasions maneuvers started, checking enemy wing ... four warrior bombers.
"Crap, this will not be so easy ..."
thought Admiral. First and second target destroyed, but no bats and only few bots left. Only two last enemy Warrior bombers left, but they were determined to kill alone human ship. Third bomber was heavily damaged but bots were getting really low ... at the last moments on HUD appeared green light, Lieutenant Riebens found that is something wrong, returned to Ryssk and opened fire with Deimos six heavy guns (and saved his Admiral ass

).
MISSION REPORT: Mission Goals fulfilled, total loot: 7x W'ar-sy Propulsor, 1x Nyses'o Blaster and 2x Kelyrd-ray Projector acquired. All ships re-equipped on Mittrak and prepared for return journey to Sirius.
All participating pilots received one offensive point!
Admiral Forlon commented:
"both newest SA pilots showed very good fighting and piloting skills. In particular, Lieutenant Riebens surprised me with skillful piloting slowly turning heavy fighter Deimos. It was great fun, hope we can do another mission soon."
Last edited by Martind Forlon on Mon 26 Aug 2013 - 8:48; edited 7 times in total (Reason for editing : Reworked formatting)
Please Help meeee !!!!!!!!!!! today 21 avril ??????

(2011-04-20 yesterday ?????)

je ne comprend pas, beaucoup de missions n'aparaissent que lorsqu'elles sont déjà effectuées...
Les dates sont les mêmes partout ???

Petite_Fraise

Captain





Number of posts

: 236


Age

: 21


Character RP Name

: Petite Mokoto


Callsign

: SA_FRAISE


Registration date :

2010-08-03

Character sheet
Name: Petite Mokoto
Callsign: SA_FRAISE
Assigned Unit: -none-


This was unplanned mission. I needed prepare my char for ASF fights and Rasann needed some IC guns also. So we decided launch small weapons gathering mission

@Petite: when you see any other SA, or allies in space, you can do your own mission in Inner Core. Official missions are Expeditions and Alerts
... pls translate this to French.
google translation:
Il s'agissait d'une mission imprévue. -Je me préparer pour mon char nécessaires et ASF Combats Rasann nécessaires IC Certaines armes à feu aussi. Nous avons donc décidé lancement de la mission de collecte des petites armes:)

Petite @: Lorsque vous trouvez une SA ou d'autres alliés dans l'espace, vous pouvez faire votre propre mission dans le noyau interne. Les missions officielles sont Expéditions et Alertes
Petite_Fraise wrote:I do not understand, many missions do not aparaissent that when they are already carried out... The dates are the same everywhere ???
Fraise this was apparently a random mission, therefore it was not regularly scheduled as I had setup for our regularly Inner Core expedition listing. Catching random missions is about as difficult as playing the lotto.
Oh yes, your suspension should be over by tomorrow, the 22nd, fly and be free little strawberry!
Traduction en Français:
Fraise cela a été apparemment aléatoire mission, par conséquent, il n'était pas régulièrement programmées en tant que j'ai eu setup pour nos régulièrement noyau intérieur expédition liste. Capture missions aléatoires est aussi difficile que joue la loto.
Oh oui, votre suspension devrait être plus par demain, le 22e, voler et être libres peu Fraise!
Dangit, Forlon beat me to the punch!

_________________
Greetings Freelancer.  You have been recruited by the Silver Arrows to defend humanity against the hostile
Xeno-lifeforms and their armadas. To explore... To defend... To help all humanity fight for it's preservation!

Ryleous Arkane (SA_ORION)

Rear Admiral





Number of posts

: 1867


Age

: 43


Character RP Name

: Ryleous Arkane


Callsign

: ORION


Registration date :

2010-01-29

Character sheet
Name: Ryleous Arkane
Callsign: SA_ORION
Assigned Unit: Retired


I think Petite flight suspension is few days over

.. @Ryleous: time is running fast
Ohhh ! Je suis en libertée depuis une semaine !!! ma suspension n'était que de 3 jours ...

Petite_Fraise

Captain





Number of posts

: 236


Age

: 21


Character RP Name

: Petite Mokoto


Callsign

: SA_FRAISE


Registration date :

2010-08-03

Character sheet
Name: Petite Mokoto
Callsign: SA_FRAISE
Assigned Unit: -none-




Similar topics
---
Permissions in this forum:
You
cannot
reply to topics in this forum